Aeroplane or take off the shirt
Ah - football! As one who knows little and understands even less about it (I've had the offside rule explained to me 5 times and I still don't get it…), and so only sees goals and highlights of matches while channel hopping, I'm totally fascinated by the behaviour of players who have just scored a goal.
I imagine that it's a very special feeling, that big moment, with a lot of adrenalin. But it's odd how all the "scorers" do more or less the same thing.
Once the ball is safely in the back of the net, the goal scorer (even if he's completely exhausted at the end of the match) sets off like a mad thing zig-zagging across the pitch with one aim: staying out of reach of his team mates!
Unfortunately, all the other players also set off at about the same moment with the opposite in mind: to grab the goal scorer and congratulate him (or at least that's what it looks like).
There follows a kind of ridiculous chase, where the goal scorer is caught by his shirt by a team mate but keeps on running in the hope he'll let go.
The scorer can either keep running around aimlessly (still zig-zagging with the others in hot pursuit), or he can try to get to the edge of the pitch where he can say to the fans: "Did you see that? I did that!" , and in case anyone is a bit gaga and has still not got the message, he points to his chest with a finger or lifts a finger in the air, just to make sure everyone has understood.
Not that we could be in any doubt, for as soon as he reaches the edge of the pitch, his pursuers catch hold of him and throw themselves on top of him in a great heaving heap, thus telling the fans: "Alright, he might have scored, but he couldn't have done it without us. So then, we're pretty good too, right? And, of course, the match bonus is for everyone, after all…"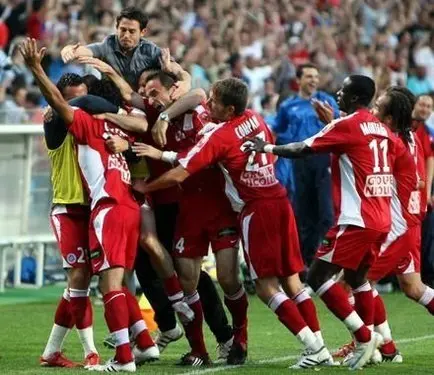 All the above can shift up a gear if the scorer runs and takes off his shirt at the same time. For footballers, it's like writing in bold or underlining text. By running, he is saying, "I'm really pleased, I've scored a goal!" But if he takes his shirt off, this means, "Wow, did you see what I f***ing well did to those bastards!" – a sort of footballers' poetic emphasis, if you like.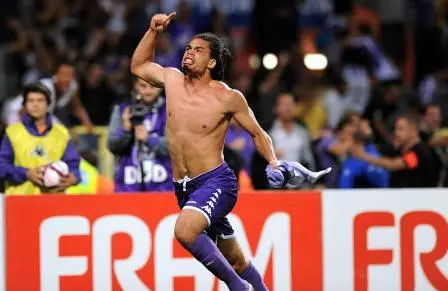 Another possible variation: the scorer doesn't take his shirt right off, but folds it down over his head as he runs.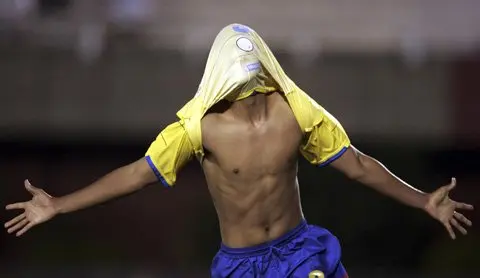 This strange behaviour (and dangerous, too – one day someone will crash into a camera or linesman) means, "That goal was just too piss-easy - their goalie must be blind!"
There was a time when goal scorers "aeroplaned" , running with outstretched arms – a gesture not without a certain elegance – which meant simply "my goal!" We are talking about a time which was less individualistic, where whoever had scored saluted the team mate who had made the decisive pass to him by pointing or by hugging him, but that seems to be relegated to the dim and distant past.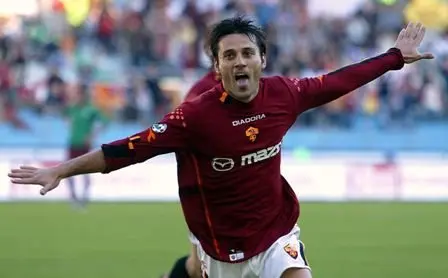 I want to finish with a look at the astonishing creativity of Icelandic footballers (whose total combined salaries, counting all the clubs, must amount to no more than the mobile phone bill of guys like Beckham or Anelka). These Icelandic players go in for a surprising ritual when they score a goal: the scorer pretends to hook one of his team mates on an invisible fishing line, who imitates a landed fish. Everyone then crowds round to pose for a pretend photo with the prize.
Amazing, isn't it? See for yourself: