Puff or flaky pastry (pâte feuilletée)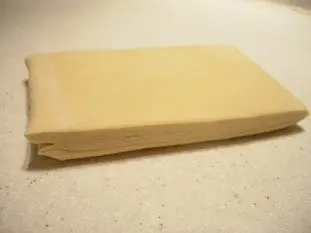 Puff pastry is an incredible assembly of thin layers of butter enclosed in thin layers of dough. After cooking this give a succession of thin crisp pastry leaves that produce exceptional desserts or pies. It's a jewel of French patisserie.

Making your own puff pastry is not very difficult, it's just a little work with a good recipe (like this one!). This recipe is for quick puff pastry ("feuilletage rapide") perfect for beginners.
291,251 44.6/5
Grade this recipe
Last modified on: January 19th 2011
For
1 kg 100 g

, you will need:
Change for:
Measures:
How long does it take?
Fulfillment
| Preparation | Resting | Start to finish |
| --- | --- | --- |
| 45 min. | 2 hours | 2 hours 45 min. |
Preservation:
1 or 2 days in the fridge, folded in a plastic film
At what time?
When will I finish if I start the recipe at a certain time?
When should I start for the recipe to be ready at a certain time?
Work this out...
---
Step by step recipe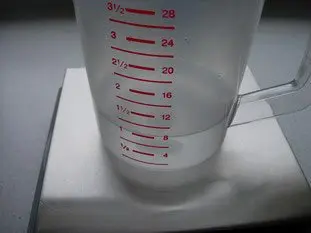 Mix 500 g
flour
et 1 teaspoon
fine (or table) salt
, if possible add 1 teaspoon white (spirit) vinegar to prevent dough from turning grey.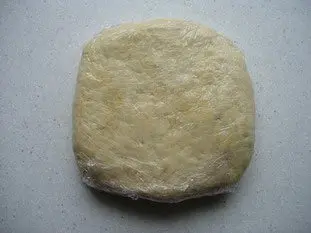 Stop as soon as dough is smooth, this dough is called a "détrempe" (soaked or softened).
Form it into slab, cover with plastic film, and put in the fridge for one hour.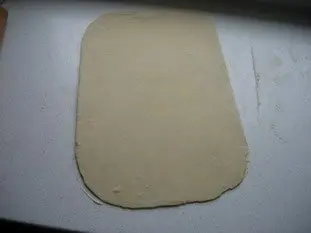 After this time, remove dough, unwrap it, then roll it out on your work surface into a large rectangle.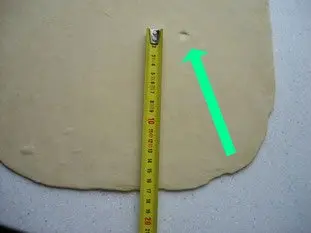 Measure length of rectangle, and make a small mark with your finger at the 2/3 point.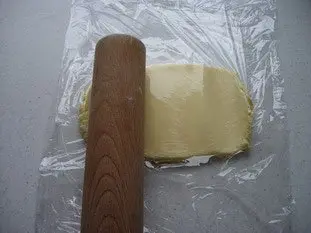 Put 200 g
butter
between two sheets of plastic film, and hit it with your rolling pin...
Stage 7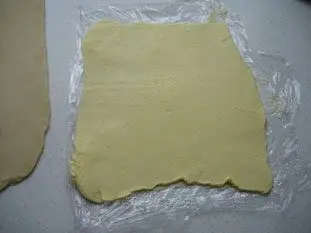 ...until you get a butter "sheet" which is a little narrower than the dough and 2/3 the length.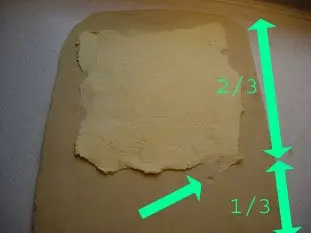 Lay the butter sheet on the dough, starting at the small mark you made before.
You should now have butter on 2/3 of the dough, 1/3 empty.
Stage 9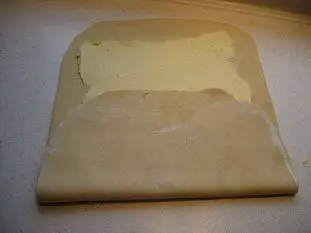 Fold up this 1/3 on top of the butter.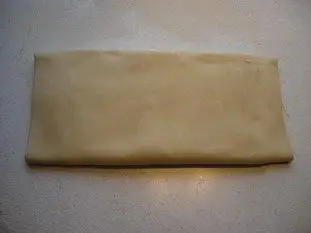 Then fold over again onto the final 1/3.
You have done "one simple turn", which means that you now have 2 butter layers inside 3 dough layers.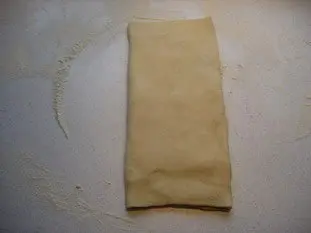 Turn the pastry a quarter turn.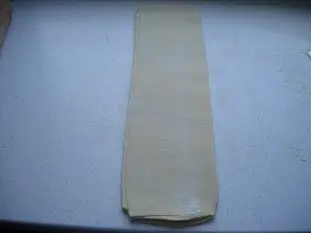 Roll out into a long regular strip.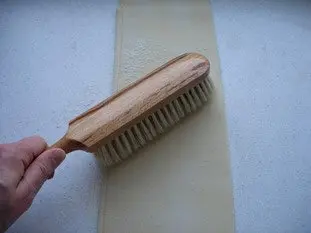 Remove any excess of flour with a
Short-handled brush
or a
pastry brush
(we do this because too much flour can hinder the layering of the pastry).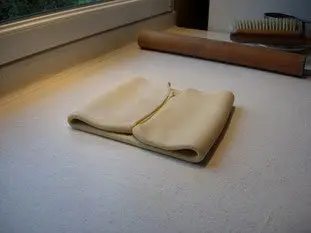 Fold strip in from both ends to meet in the centre.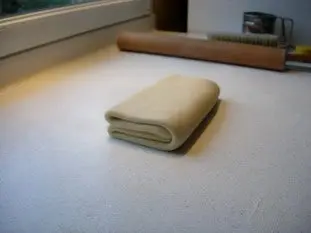 Then fold this in half.
You have done "one double turn" or "wallet turn".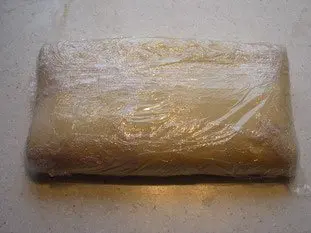 Cover pastry with plastic film and leave to rest in the fridge for one hour.
This sequence of "double turn" + 1 hour rest, needs to be done twice more to get: 1 simple turn and 3 double turns.
Stage 17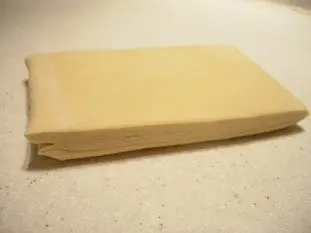 Your puff pastry is now ready to use. Cut into three pieces (of about 300g) and wrap each in plastic film until use, or freeze (see below).
Remarks
Puff pastry should not be kept in the fridge for too long (in spite of the vinegar), 2 or 3 days maximum. But it can easily be frozen, in which case don't do the final double turn and freeze at this stage. When needed, remove from freezer, leave to thaw in the fridge overnight, and do the final double turn just before use.

You wonder how-many layers there are? Here is the solution: after the first turn there are 2 butter layers between 3 dough layers, and each double turn multiplies by four. So after the first one we get 12 layers, 48 at the second, and 192 at the third.

How does it work? In the heat of the oven, the layers of pastry cook and turn brown and crisp, at the same time the butter melts (helping pastry to brown) and the water inside turns to steam. This steam in trapped in the pastry, so the entire pastry inflates to become puff pastry.
Nutritional information
% are calculated relative to a Recommended Dietary Intake or RDI of 2000 k-calories by day for a woman (change to a man).
How much will it cost?
Note : These prices are only approximate
Recipes which use this 5
Source
After Gaston Lenôtre.
More recipes?
This recipe use (among others)
| | |
| --- | --- |
| | Flour: You can get more informations, or check-out other recipes which use it, for example: Fish fillet with preserved lemons, Dublin fruit scones, Tea and white chocolate biscuits, Flaky chocolate brioche, Chocolate eclairs, ... All |
| | Butter: You can get more informations, or check-out other recipes which use it, for example: Toasted almond cake, Brioche galette, Nicholas's fish, Fruit crémeux, Sweet pastry, ... All |
| | Water: You can get more informations, or check-out other recipes which use it, for example: Quick orange marmalade, Houmous, Vegetable stock, Poaching syrup, French onion soup, ... All |
| | Fine (or table) salt: You can get more informations, or check-out other recipes which use it, for example: Chocolate mousse with hazelnuts, Home-made terrine of foie gras, Eggs with tomatoes and courgettes, "Psychedelic" sandwich bread, Choux pastry (pâte à choux), ... All |
News list of cooking-ez.com
Sign up to receive the latest recipes (next batch due to be sent on 2019-05-26)
Note: We'll never share your email with anyone else.
Follow this recipe (as 7 people already do)
If you are interested in this recipe, you can "follow" it, by entering your email address here. You will then receive a notification immediately each time the recipe is modified or a new comment is added. Please note that you will need to confirm this following.

Note: We'll never share your email with anyone else.