Coconut rocks
A recipe from
cooking-ez.com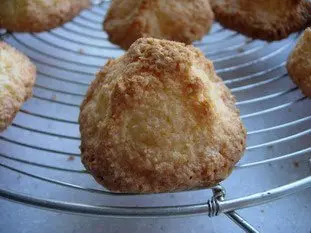 For 10 Coconuts rocks, you will need:
0

125 g dessicated coconut

1

90 g caster sugar

2

1 egg
Total weight: 265 grams
Times:
Step by step recipe
1: Preheat oven to 180°C or 356°F.
In a bowl, pour 90 g caster sugar and 1 egg.
2: Beat to mix.
3: Do it quickly, stop as soon as it is well mixed.
4: Add 125 g dessicated coconut.
5: Then mix with your hand or a spatula.
6: Stop as soon as the mix is homogeneous.
7: Form rocks: take small amounts of dough and put on a baking sheet, form into pyramid shapes with a narrow base (they will spread during cooking).
You can also make little balls, or use a forcing bag.
8: Put in the oven for about 20 minutes (it depends on the size). They should be golden and crusty on the outside, but still soft inside.
9: Leave to cool on a wire rack.
Remarks
You can add a half teaspoon of rum to the egg if you like it.
For almond rocks, use ground almonds instead of coconut (but it's not quite as good, and less golden after cooking).
---
September 22th 2020.