5 min.

1 min.

10 min.

Add the milk-butter mixture, 10 g

coarse salt

, and knead for 10 minutes.

1 hour

Gather the dough into a ball, place in a suitable container, dust the top with flour and cover with a

plastic sheet

.

Leave to rise at room temerature until the dough has doubled in volume (1 or 2 hours).

5 min.

Roll out the dough to 1,5 or 2 cm thick (¾") minimum (important, otherwise your buns will not be thick enough).

3 min.

Cut out circles 9-10 cm (4") diameter with

cutter

.

1 min.

Lift off excess dough.

5 min.

Repeat this rolling and cutting several times to use up all the dough.

1 hour

Leave to rise a good hour again covered with a plastic sheet.

Preheat oven to 200°C or 392°F.

3 min.

After this time,

brush

the top of each bun with beaten egg yolk, then sprinkle with sesame seeds.

15 min.

Bake for approximately 15 minutes (check the colour towards the end of cooking time).
Remarks:
Once you have tasted these buns, you will no longer be able to buy the sticky commercial ones (especially if you read the ingredients on the label...).
If you'd like more information about making your own bread, look at this
dedicated page
.
Recipes which use it: 2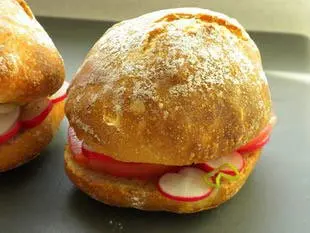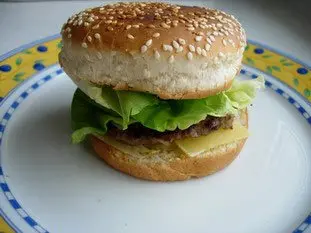 Search the recipes
.
Source:
Home made
Grade this recipe