List of recipes using "Almond paste":
2 recipes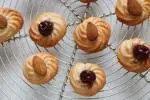 As the name suggests, these are piped into shape using a forcing bag. These dainty little macaroon-like cakes are made with marzipan and have a soft, moist texture.
5,073 1 day 32 min.

Making marzipan decorations for cakes or desserts is fairly simple. Here are some tips to make it even easier.
60,202 2
5/5 for 1 ratings 13 min.