List of recipes using "Austria":
3 recipes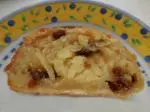 Apple strudel is a traditional pastry from central Europe. It is like a large apple turnover, usually served in slices. Here is a version with apples, walnuts, almonds and rum-soaked raisins.
8,889
5/5 for 2 ratings 1 hour 32 min.

Black Forest gateau is a sophisticated dessert which comes from Germany. It is essentially a combination of four flavours: chocolate, cherries, cream and kirsch. Here is my own version.
31,719
4.6/5 for 11 ratings 2 hours 32 min.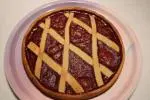 Linzer torte, or tart from Linz (Austria), has a cinnamon-flavoured crust filled with raspberry jam. The special and rather crumbly sweet pastry used for the case is made with cinnamon, ground almonds and the yolks of hard-boiled eggs. There are many different versions. In this rather unusual one,...
4,246
4.7/5 for 11 ratings 1 hour 5 min.