List of recipes using "Beans":
11 recipes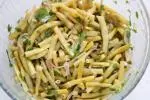 A very simple recipe for a salad of green (or yellow) French beans: The beans are boiled first, then thoroughly drained and served mixed with herbs, chopped shallot and a good vinaigrette (french dressing).
4,649
4.6/5 for 14 ratings 35 min.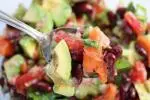 This Mexican-inspired salad combines red kidney beans with avocado, chopped onions and tomatoes. It is dressed with olive oil, lime and a touch of Tabasco heat.
684
5/5 for 1 ratings 28 min.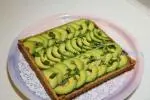 This unusual tart features two star ingredients of South American cuisine: red kidney beans and avocado. The shortcrust pastry case is filled with a red bean and onion purée, then topped with sliced avocado dressed with lime and garnished with fresh coriander.
461 1 hour 17 min.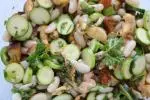 This warm Paimpol salad captures the flavours of Brittany with mussels and white beans. These are combined with crunchy slices of baby courgette.
1,266 13 hours 22 min.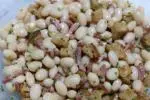 Melt-in-the-mouth haricot beans, pan-fried lardons and croutons with chives and a good vinaigrette dressing.
1,986 36 min.

Pieces of white fish rolled in thinly sliced smoked ham. These rolls are cooked in a little olive oil and served with French beans. The pairing of smoked ham with fish might seem a little strange, but in fact these flavours marry well.
85,850
4.9/5 for 18 ratings 54 min.

This is a really express recipe, a "true" chilli is longer and more difficult to do.
80,386
3.8/5 for 18 ratings 33 min.

Fresh white haricot beans and leftover chicken cooked with stewed tomatoes, a sprig of parsley and it's ready.
69,418
4.1/5 for 19 ratings 1 hour 55 min.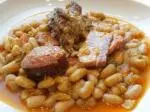 Cassoulet is typical, even emblematic, of southern French cuisine. It is a "slow food" casserole in which meat and vegetables, particualrly dried beans, are cooked together for a long time. Here is a simplified version of this famous dish.
26,378
4.1/5 for 16 ratings 16 hours 9 min.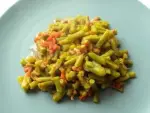 Cut green beans simmered with tomatoes and mixed with onions and lightly fried lardons (or small pieces of bacon).
27,220 1
4.7/5 for 20 ratings 1 hour 38 min.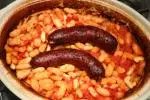 What could be more basic than sausages and beans? This is a rustic French version using dried white haricot beans (or "mogettes") that are first boiled fast, then left to cook slowly with tomatoes and smoked sausages. The long cooking allows the smoky flavour of the sausages to gradually spread down...
3,803
4.6/5 for 14 ratings 1 hour 4 min.