List of recipes using "Brittany":
2 recipes

(lactose free)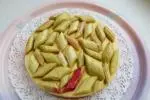 This rhubarb and apple tart is given a Breton twist with a base of traditional, butter-rich, sablé biscuit. This is topped with an apple "crémeux" filling. The finishing touch is a layer of rhubarb, cut on the diagonal and oven-poached in a syrup of its own juice.
2,377
5/5 for 1 ratings 1 hour 44 min.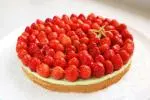 Strawberries and verbena go well together. In this recipe they are combined as a verbena crémeux with whole fresh strawberries on a Breton sablé base.
2,017 1 hour 47 min.