List of recipes using "Cancoillotte cheese":
5 recipes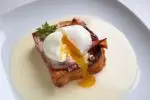 Eggs Arsène is a rather more rustic version (and definitely more Comtoise in style) of eggs Benedict , that indispensible breakfast dish in Ian Fleming's novels. And you're right, there is a nod to James Bond here.
3,712
5/5 for 1 ratings 1 hour 2 min.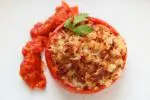 These stuffed tomatoes are a bit special: the stuffing is made with Morteau sausage, onions, rice and cancoilotte cheese.
6,019
4.1/5 for 16 ratings 1 hour 36 min.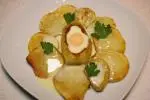 In this recipe from eastern France, an egg yolk sits inside a potato nest with a topping of hot cancoillote cheese. The nest is served with fried sliced potatoes.
7,215
3.8/5 for 19 ratings 40 min.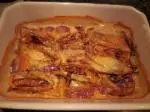 Here is a variation on the classic French recipe for endives with ham. This recipe uses cancoillotte cheese instead of the usual béchamel sauce.
14,230
3.8/5 for 19 ratings 57 min.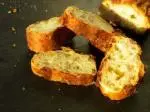 Thin baguettes made with Morteau sausage and cancoillotte cheese. The cancoillotte is added in the form of crumbled metton curds (normally melted in milk to make the creamy cancoillotte). Sliced thinly, these sticks make an ideal aperitif snack for sharing with friends.
26,045
4/5 for 2 ratings 5 hours 27 min.