List of recipes using "Cashew nuts":
3 recipes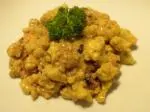 Plenty of flavour in this cauliflower curry: from the hot spices, of course, but also from dry-roasted cashew nuts.
14,031
4.8/5 for 12 ratings 54 min.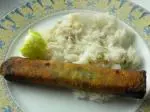 These are rolls of brik pastry (or filo), filled with a mixture of spinach, hard-boiled eggs, bacon and onions. They are served here accompanied by rice with cashew nuts.
27,035
5/5 for 1 ratings 1 hour 40 min.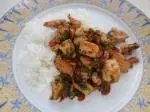 This Thai-inspired recipe combines diced chicken with cashew nuts, spring onions, herbs and a lime-soy sauce.
8,728
5/5 for 13 ratings 24 min.