List of recipes using "Core":
3 recipes
List of recipes using "Core"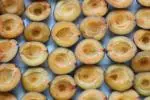 When fruit is in season, there's sometimes a glut - far more than we can use at once. Freezing is a good solution, but plums and other stone fruit should not be frozen whole; the fruit will be unappetizing when thawed. Here's a simple method for successful freezing.
75K
3.6
12 hours 40 min. September 4
th
2019

For most recipes it is necessary to completely peel the pineapple, and to keep only the flesh which is then often cut into small pieces. Here is a method.
180K
3.7
20 min. February 21
th
2011

Here is how to get from an avocado only the flesh of the fruit.
166K
1
4
11 min. January 9
th
2010