List of recipes using "Crab":
5 recipes

A layer of light avocado mousse on a bed of crab meat in a herb rémoulade dressing.
39,632
5/5 for 13 ratings 35 min.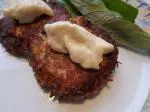 These crab cakes are a mixture of crab meat - of course - with onion, parsley, breadcrumbs, egg and mayonnaise. The cakes are made fairly thick and shallow fried in a pan, but they can also be deep fried.
10,916
4.7/5 for 18 ratings 1 hour 3 min.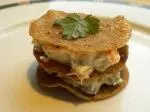 Little savoury "millefeuilles" with a very Breton taste of the sea: a mix of crab and salmon in a herb mayonnaise, piled up between crisp circles of buckwheat pancake.
24,231
5/5 for 10 ratings 48 min.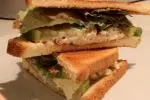 This is a sandwich with a difference: its Breton character comes not only from the crab in mayonnaise, but also from pieces of "galette" (buckwheat pancake), fried in butter.
8,327
3.8/5 for 17 ratings 22 min.

A club sandwich has three slices of bread, filled with a mayonnaise-style dressing. Here is a crab and smoked salmon version with cocktail sauce.
68,175 1
5/5 for 1 ratings 1 hour 2 min.