List of recipes using "Cup":
3 recipes

A very refreshing starter, containing prawns and smoked fish.
75,463
5/5 for 1 ratings 54 min.

Cupcakes are small sponge cakes. In their original American version, they are usually decorated with brightly coloured icing. Here's a version inspired by the famous saguaro cactus, so common in Arizona.
59,229 1
4.6/5 for 14 ratings 1 hour 49 min.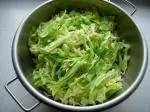 Cabbage can be used cooked or raw, whole leaves or in julienne. Here is how to prepare a cabbage julienne.
63,314 1
4/5 for 12 ratings 43 min.