List of recipes using "Double cooked":
3 recipes
List of recipes using "Double cooked"

This pollack fillet is cooked in two stages: first pan-fried briefly to seal it and colour the outside, then baked gently in the oven in a parcel (en papillotte) on a bed of melting onions, julienne carrots and peas. This double cooking will give you a fish that's lightly crisped on the outside and...
157K
4.7
1 hour 40 min. January 23
th
2011

Pilau rice (also called "restaurant rice" in France) is a way of cooking rice that's very different from using a rice-cooker. In this recipe, the rice is first "pearled" with onion in olive oil, then chicken stock is added, and the whole lot is put in the oven. This produces a very tasty moist rice,...
343K
1
4.4
33 min. February 21
th
2011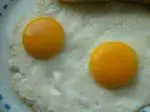 You've probably heard the expression: "S/he can't even cook an egg," suggesting that the person referred is a hopeless cook. In reality, frying eggs well isn't as easy as it might appear. The two most frequent errors: the white develops a brown crust around the outside which is unpleasant in the...
470K
1
4.6
20 min. March 11
th
2018