List of recipes using "Egg yolks":
3 recipes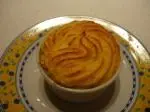 Duchess potatoes are a mix of mashed potato and egg yolks, cooked in the oven, in a decorative shape and delicious. In this recipe they top a ramekin containing a layer of mashed potato, cooked leek, and thinly sliced bacon.
86,380 2
4.6/5 for 14 ratings 2 hours 5 min.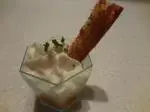 This sophisticated, smoky flavoured starter consists of an egg yolk, heated in a bain-marie and a smoked cream mousse with a scattering of chives, served with a buttered-toast "soldier".
11,675
4.9/5 for 12 ratings 12 hours 30 min.

You should not start beating egg yolks and caster sugar at high speed, because this splashes drops of egg yolk against the sides of the bowl, which then go hard as they dry.
27,351 2
4.5/5 for 19 ratings