List of recipes using "Folded":
5 recipes
List of recipes using "Folded"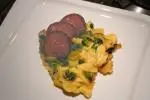 This quick French way of cooking eggs is similar to an omelette, but with the egg simply drawn in towards the centre during the brief cooking. The eggs here are cooked with sautéed leeks and served with delicious morteau sausage "crisps".
24K
4.3
44 min. March 29
th
2017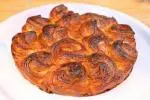 This is unusual brioche is halfway to being a Breton Kouign-amann. The difference is in the treatment of the dough, which is layered with sugar and butter. The basic dough is rolled out with butter in stages, like for croissants, but with 2 "turns" of sugar for one of butter (granulated and vanilla...
39K
4.3
15 hours 55 min. December 30
th
2019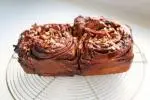 This beautiful brioche contains the typical ingredients you'd expect in a brownie: chocolate, butter, brown sugar and pecan nuts. But these are not just thrown into the mixture; the brioche is layered with them to create a delicious culinary bridge between Europe's viennoiseries and the all-American...
31K
4.3
16 hours 43 min. September 12
th
2018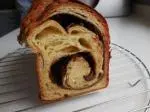 This is a rather special brioche: the dough is first layered with butter to make it flaky, then this is rolled around a chocolate filling. The recipe is quite long, but you will be astonished at the result. It is both light (in flaky layers) and rich (with its chocolate filling). As you can see...
60K
4.5
16 hours 15 min. November 6
th
2020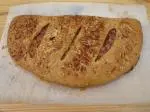 This is a richer version of the traditional Mediterranean recipe (originaly, it was a simple olive oil bread).
301K
4.1
3 hours 9 min. October 24
th
2017