List of recipes using "Four quarters":
2 recipes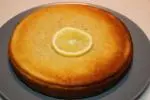 This is similar to the basic "four quarters" cake, but with the delicious double lemon flavour that comes from using both zest and juice.
6,054
5/5 for 2 ratings 46 min.

It's "the simpliest cake in the world", called four quarters, because it's made with 1/4 eggs, 1/4 sugar, 1/4 flour and 1/4 butter.
71,614
3.7/5 for 18 ratings 1 hour 15 min.