List of recipes using "French traditional":
3 recipes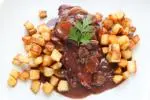 Coq au vin is one of those iconic classics of French cuisine, though these days it is more likely to be made with chicken. The poultry is marinated in red wine, fried, then flambéed in cognac before being simmered slowly in the wine marinade. It has much in common with that other classic, boeuf...
7,764
4.2/5 for 11 ratings 14 hours 44 min.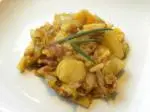 A one-pot endive dish with potatoes, onion and bacon. [Translator's note: the French "bonne femme" style is good, straightforward home cooking (whether the cook is a man or a woman!).
25,341
4.3/5 for 19 ratings 1 hour 23 min.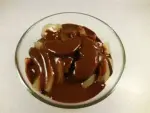 Poire Belle Hélène is a fairly simple cold dessert. The pears are poached in a vanilla-flavoured syrup, then served on top of vanilla ice cream with hot chocolate sauce poured over.
12,016
4.7/5 for 19 ratings 1 hour 46 min.