List of recipes using "Grapefruit":
3 recipes

Cold grapefruit quarters with slices of hot caramelized pineapple, lime custard (crème anglaise) and citrus crunch.
92,896
4.6/5 for 14 ratings 2 hours 5 min.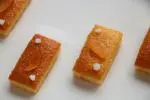 The french love their "moelleux" — moist fondant cakes, often with a melting centre. These little mini-moelleux are flavoured with grapefruit. The grapefruit flavour is brought out fully by using a combination of juice, zest and candied peel.
1,186
5/5 for 1 ratings 1 hour 7 min.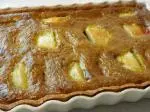 A sweetcrust pastry case filled with pistachio cream, topped with pear and grapefruit slices.
19,260
4.3/5 for 15 ratings 1 hour 37 min.