List of recipes using "Heating":
3 recipes

Very often when you heat milk in a saucepan, it forms at the bottom of the pan (especially if the milk boiled) a sticky and brown bottom of milk that burned and attached. To avoid this here is a very simple and very effective tip.
29,466
5/5 for 4 ratings 1 min.

In restaurants serving "à l'assiette", wich means that your dish is presented already served on a plate, it's very important for the plates to be hot, otherwise dishes arrive cold and it's the customer that (rightly) becomes heated. At home it's worth doing the same thing: you are sure to serve hot...
27,888 4
3.7/5 for 3 ratings 22 min.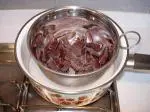 A bain-marie is the best way to cook or heat a preparation gently without risk of burning.
24,651
5/5 for 2 ratings 7 min.