List of recipes using "Land and sea":
2 recipes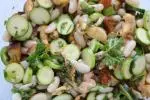 This warm Paimpol salad captures the flavours of Brittany with mussels and white beans. These are combined with crunchy slices of baby courgette.
1,132 13 hours 22 min.

Pieces of white fish rolled in thinly sliced smoked ham. These rolls are cooked in a little olive oil and served with French beans. The pairing of smoked ham with fish might seem a little strange, but in fact these flavours marry well.
85,654
4.9/5 for 18 ratings 54 min.