List of recipes using "Lutée":
1 recipes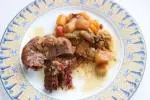 In this recipe a good joint of beef is slow-cooked, surrounded by an assortment of vegetables in small chunks. To concentrate the flavours, the cooking time should be long at a moderate temperature and, most important of all, the dish should be sealed. By the end of cooking, the vegetables will be...
4,697
4.1/5 for 16 ratings 5 hours 28 min.