List of recipes using "Mould":
2 recipes
List of recipes using "Mould"

Often when making gratins, crumbles or other oven-cooked dishes, you will need to butter the dish or mould. To butter (or grease) means to rub inside the mould with a knob of butter to prevent the mixture sticking too much. Instead of putting a knob of butter in the dish and wiping with paper, here...
104K
4.1
1 min. February 21
th
2011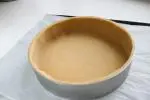 Lining a tin or mould with pastry to make a tart or pie seems simple enough: you roll out the pastry, put it in the tin and trim off any overhanging bits. It may not be rocket science, but if you want a tart with a perfect pastry case, it really helps to take care over a few details, which I will...
33K
42 min. July 14
th
2019