List of recipes using "Nougat":
4 recipes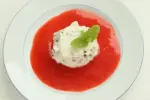 Impress your guests with this delightful dessert, a smooth mixture of meringue and dried fruit, which can easily be prepared several days beforehand.
81,485
4.5/5 for 2 ratings 1 hour 28 min.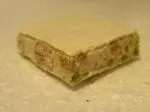 Nougat is a sweet made with honey and almonds that has changed very little since ancient times. The nougat we know today is the Montelimar variety, in which egg whites are added to the basic recipe for a lighter texture. Here is a simplified version.
24,527 1
5/5 for 1 ratings 1 hour 41 min.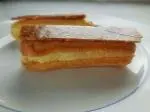 A Valay-Brest is a mini eclair, filled with apple-flavoured confectioner's custard and topped with a rectangle of walnut nougatine.
13,110
4.1/5 for 19 ratings 1 hour 28 min.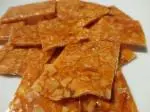 Nougatine is a delicious nut toffee: caramel mixed with toasted flaked almonds. Not a dessert in itself, it is often used to decorate cakes and pastries. But those who enjoy good things are sure to want to eat it on its own!
24,628
3.5/5 for 6 ratings 32 min.