List of recipes using "Pan-fried":
3 recipes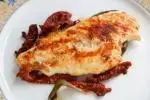 Chicken breasts pan-fried with sage leaves, topped with thinly sliced mozzarella and preserved tomatoes, then served turned over on a bed of the "toppings".
9,345
4.1/5 for 17 ratings 23 min.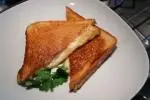 This is the classic American pan-fried sandwich, the "grilled cheese". The French have their own, slightly different speciality: croque-monsieur.
5,315
5/5 for 13 ratings 21 min.

What could be simpler than fried potatoes? No need of a recipe for that! Quite right, but it's also very easy to end up making fried mash instead. Here are the main pitfalls to avoid.
63,958
4.4/5 for 19 ratings 1 hour 37 min.