List of recipes using "Pears":
12 recipes

It's a very easy recipe, everything depends on the choice of differents kinds of pears all fully ripe, to give a delicious contrast in the mouth.
61,891
4.2/5 for 20 ratings 37 min.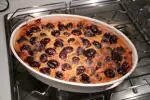 Here is a clafoutis that is quick to make, with a delicate blend of plums and pears. This recipe can be varied easily to use any good fruit in season.
1,989 53 min.

A layer of light lime cream and caramelized pears in a crisp pastry case, topped with Italian meringue, which is browned under the grill or with a flame.
73,338 2
3.8/5 for 17 ratings 2 hours 36 min.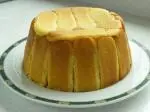 A charlotte filled with pear mousse (made with whipped cream and pear coulis).
27,506
4.1/5 for 18 ratings 13 hours 59 min.

For a great pear sorbet, choose your fruit carefully: they should be perfectly ripe and full of flavour. You will get good results with williams, but any other variety of your choice will work.
71,482
4/5 for 11 ratings 54 min.

This is a very quick and easy tart to make, as everything (or almost) can be done in advance. A piece of sweetcrust pastry, some almond cream and pears? You have "everything you need".
74,251
4.2/5 for 19 ratings 1 hour 14 min.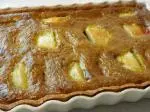 A sweetcrust pastry case filled with pistachio cream, topped with pear and grapefruit slices.
19,304
4.3/5 for 15 ratings 1 hour 37 min.

Samosas are small parcels of filling wrapped in brik (or filo) sheets and either shallow or deep fried. Here is a sweet version, with pears and caramelised walnuts.
100,092
4/5 for 1 ratings 1 hour 21 min.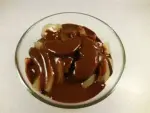 Poire Belle Hélène is a fairly simple cold dessert. The pears are poached in a vanilla-flavoured syrup, then served on top of vanilla ice cream with hot chocolate sauce poured over.
11,608
4.7/5 for 19 ratings 1 hour 46 min.

Pear halves sautéed in butter and sugar served with real custard (crème anglaise) and a reduced blood-orange syrup.
47,551
3.7/5 for 11 ratings 1 hour 4 min.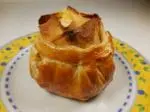 This dessert, named after a small town in Normandy, consists of a pear filled with confectioner's custard (French pastry cream), which is wrapped in a pancake and puff pastry, then baked. The "douillon" part of the name comes from a warm coat, the "douillette", of former times.
11,636
4.3/5 for 19 ratings 1 hour 3 min.

Stewed pears are not as easy to prepare as stewed apples, as they contain more juice and you risk ending up with more of a coulis than a compote. So here are two simple methods to help you succeed.
27,689
4.3/5 for 15 ratings 37 min.