List of recipes using "Pickles":
4 recipes

Little verrines filled with a mixture of cottage cheese (fromage blanc), cream and coriander with diced radish, gherkin and shallot.
36,197 2
4.8/5 for 12 ratings 41 min.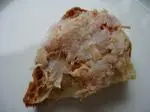 Potted meat (rillettes) is cooked long and slow in fat. Rillettes can be of pork or duck. Here is the pork version.
98,107 2
5/5 for 1 ratings 6 hours 46 min.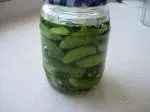 Preparing your own gherkins in vinegar is quite straightforward, if you know how to avoid a few pitfalls. Here's a recipe which works every time.
97,624 7
3.1/5 for 12 ratings 4 hours 36 min.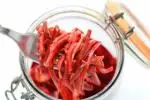 This mixed pickle is made with a variety of vegetables left to mature for 2 weeks in diluted vinegar. The result is similar to gherkins and can be added to lots of recipes, or eaten with a snack or sandwich.This red version gets its name from beetroot and red cabbage, which eventually colour...
1,563 1 hour 29 min.