List of recipes using "Preservation":
2 recipes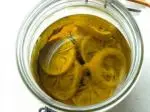 For this recipe, the lemons are sliced first (this makes them easier to use later), then salted to drain off the juice before being bottled in herb-flavoured olive oil. These preserved lemons can be used in all sorts of dishes, especially with fish and poultry.
20,857 1
5/5 for 13 ratings 12 hours 36 min.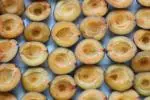 When fruit is in season, there's sometimes a glut - far more than we can use at once. Freezing is a good solution, but plums and other stone fruit should not be frozen whole; the fruit will be unappetizing when thawed. Here's a simple method for successful freezing.
2,646
4.5/5 for 2 ratings 12 hours 40 min.