List of recipes using "Region":
11 recipes
List of recipes using "Region"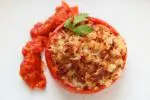 These stuffed tomatoes are a bit special: the stuffing is made with Morteau sausage, onions, rice and cancoilotte cheese.
29K
4.1
1 hour 36 min. October 5
th
2016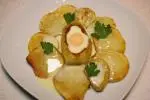 In this recipe from eastern France, an egg yolk sits inside a potato nest with a topping of hot cancoillote cheese. The nest is served with fried sliced potatoes.
31K
3.8
40 min. January 17
th
2016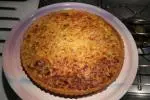 Flamiche is a savoury tart from the Picardy region of northeasten France. It is a cousin of quiche lorraine, but the pastry is characteristically made with lard and the filling has neither bacon nor eggs. This version contains a mixture of endives and leeks (white part only).
23K
1
4.5
1 hour 16 min. April 30
th
2017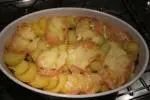 This gratin combines the flavours that are so characteristic of France's northern region: endives (chicory), beer and Maroilles cheese.
38K
5
1 hour 33 min. January 21
th
2018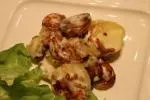 Truffade is a traditional dish from France's Auvergne region. It is made with potatoes and local cheese. Truffade originated in the mountains and is a proper winter dish, quite rich and delicious. This recipe, like with all traditional food, comes in many versions: different cheeses, ways to cook...
35K
4.3
1 hour 10 min. August 12
th
2021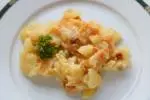 Truffade is a traditional dish from the Auvergne region of France. It is simple and delicious: potatoes are cooked slowly in a covered pan, then sliced local cheese is melted in towards the end of cooking.
11K
1 hour 33 min. August 12
th
2021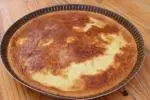 Flognarde is a dessert that originated in France's Limousin region. The recipe is very simple: a vanilla-flavoured egg custard, thickened with flour, and sometimes made with seasonal fruit (apples, cherries, pears...). This is a very old recipe that has come down to us virtually unchanged since...
45K
4
47 min. December 30
th
2019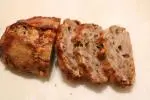 This speciality bread is full of all the character of the Jura: dry white wine (made with Savagnin grapes, of course), diced Comté cheese and toasted walnuts. "Jurassic bread" was is first name... The loaves can be made long, as shown here, or as small rolls. This is ideal as an aperitif snack,...
29K
4.4
6 hours 9 min. October 24
th
2017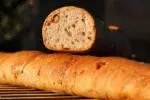 This short baguette, from the Poitou region of western France is soft-textured, made with walnuts, walnut oil and goat's cheese. As the name suggests, the bread is twisted, rather than slashed, just before it goes into the oven.
25K
3 hours 19 min. December 19
th
2018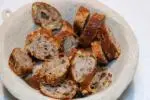 These crusty mini-baguetttes are generously dotted with diced Comté cheese, toasted walnuts and fried bacon bits. They are ideal for slicing and serving as an aperitif snack.
39K
5
3 hours 51 min. October 24
th
2017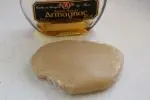 Almost the same as plain marzipan, but this almond paste is flavoured with a hint of Armagnac or Cognac.
20K
5
9 min. September 12
th
2018