List of recipes using "Sablé":
7 recipes
List of recipes using "Sablé"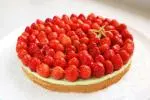 Strawberries and verbena go well together. In this recipe they are combined as a verbena crémeux with whole fresh strawberries on a Breton sablé base.
22K
1 hour 47 min. August 11
th
2019

These biscuits are half and half chocolate and almond in a checkerboard pattern, both in colour and flavour.
117K
5
4 hours 24 min. March 8
th
2012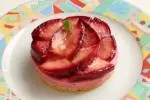 Superb little tarts, bursting with summer flavours: a Breton sablé base, a blackcurrant crémeux, and topped with slices of vineyard (or blood) peaches, every bit as delicious as they are colourful..
13K
4 hours 19 min. August 12
th
2020

Little biscuits with home-made oat flour (made from rolled oat flakes).
239K
1
5
2 hours 41 min. February 21
th
2011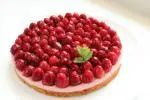 This gorgeous and delicious rasperry tart is not just any old fruit tart: the base is made with "sablé breton" dough, topped with a raspberry crémeux and a layer of whole fresh raspberries, finished with a glaze. It's a bit more complicated than a normal tart, but the result is well worth the...
38K
5
1 hour 41 min. July 4
th
2020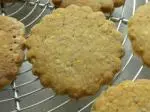 Those little biscuits are with good walnut taste, because walnut are shortly roasted before powdered, it's very simple and efficient.
129K
4.3
3 hours 1 min. October 2
nd
2011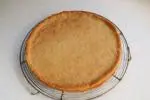 Brittany is famous for its rich, sandy textured "sablé" biscuits. Similar to shortbread, they are made with lots of butter and egg yolk, and just a hint of vanilla. This dough can be made into simple biscuits – already delicious on their own – or used as the base for tarts and other desserts.
71K
26 min. August 1
st
2018