List of recipes using "Spanish":
2 recipes
List of recipes using "Spanish"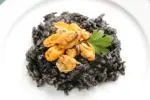 The famous Spanish arroz negro (black rice) is prepared by adding squid ink towards the end of cooking. This gives the rice not only its curious dark colour, but delicious marine flavours. In this recipe it forms the bed for mussels, cooked simply and served out of their shells – a perfect...
17K
1 hour 10 min. January 30
th
2019

Paella is a traditional Spanish dish made with round rice, associated mainly with the Valencia region. The name comes from the large two-handled pan in which it is traditionally prepared. This is an adapted version with a mix of meat, vegetables and shellfish.
297K
4.1
2 hours 58 min. February 21
th
2011