List of recipes using "Tabasco":
3 recipes
List of recipes using "Tabasco"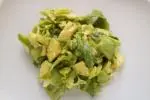 This salad is all green and fresh, with diced avocado, lettuce, spring onion and the softness of pieces of hard-boiled egg. The flavour is brought out further with a lime and olive-oil dressing, pepped up with a touch of Tabasco.
28K
27 min. July 8
th
2018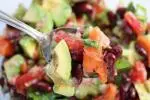 This Mexican-inspired salad combines red kidney beans with avocado, chopped onions and tomatoes. It is dressed with olive oil, lime and a touch of Tabasco heat.
41K
5
28 min. October 9
th
2019

Cocktail sauce is a spicy mayonnaise with cognac, Tabasco and concentrated tomato paste (or purée) added.
178K
4
9 min. October 13
th
2010