List of recipes using "Terrine":
7 recipes

In this colourful terrine, layers of avocado alternate with smoked salmon and diced tomato in balsamic vinegar.
52,509
5/5 for 1 ratings 4 hours 7 min.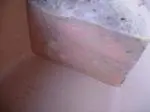 This simple way preparing a terrine of foie gras is ideal for beginners. In this recipe the liver is passed through a sieve or vegetable mill rather than kept in large pieces. The final appearance is smoother, less marbled, but just as delicious.
54,363 1
5/5 for 9 ratings 17 hours 8 min.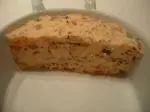 A terrine of two kinds of salmon (cooked and smoked) with butter and lemon.
84,149
4.3/5 for 15 ratings 2 hours 38 min.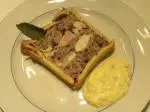 The French classic "Paté en croute" is a terrine of different meats layered and baked in a pie crust. There are many recipes which vary the kind of meat and the seasonings. This is my version with pork, veal and chicken, which is not too difficult, though it does entail quite a lot of work.
51,686 13
4.2/5 for 17 ratings 6 hours 49 min.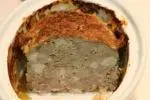 This is a rather special rabbit terrine, with some of the meat added in larger morsels to the minced mixture before cooking. These whole pieces of rabbit show when the terrine is sliced and add character, both in flavour and texture.
5,868
4.6/5 for 19 ratings 15 hours 32 min.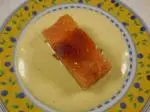 Imagine a sweet terrine, made of layers of apples with sugar, cooked slowly in the oven until caramelized. Serve warm in slices with custard.
11,896
4.1/5 for 19 ratings 3 hours 28 min.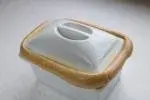 The French have a term for it: "luter", which means to seal around the lid of a cooking dish with dough. The dough forms a crust and hermetically seals in all the steam and flavours while the dish is cooking in the oven. This is a good way to concentrate flavours. The dish is brought to the table...
7,987
3.8/5 for 17 ratings 33 min.