List of recipes using "Traditional french recipe":
1 recipes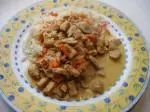 Blanquette is a classic dish of French family cooking, but can also be found in bistros. Veal is cooked slowly, and the sauce is thickened with a mixture of egg yolks and cream. I have set out a rather special way of making it.
80,739
4.4/5 for 10 ratings 2 hours 49 min.