For
4 people

, you will need:
Change for:
Measures:
How long does it take?
Time required
| Preparation | Cooking | Start to finish |
| --- | --- | --- |
| 30 min. | 25 min. | 55 min. |
Keeping:
Several days in the fridge, covered by a plastic film.
At what time?
When will I finish if I start the recipe at a certain time?
When should I start for the recipe to be ready at a certain time?
Work this out...
---
Step by step recipe
---
Stage 1 - 5 min.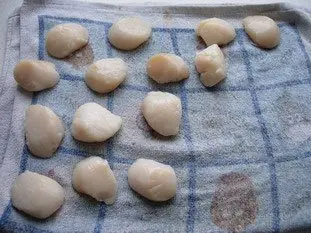 Rinse 24 scallops briefly. If they are fresh, there should be no need, and they will have all the more flavour once cooked.
Dry on a cloth or
papier absorbant
.
---
---
Stage 3 - 2 min.
---
Stage 4 - 5 min.
Add the chopped leeks, stir well, and cook uncovered until leeks are barely tender and still slightly crunchy.
---
Stage 5 - 10 min.
Add 100 ml
cream
, stir well, salt and pepper. Turn down heat and leave to cook gently until cream thickens. Remove from heat.
Heat serving plates.
---
Stage 6 - 3 min.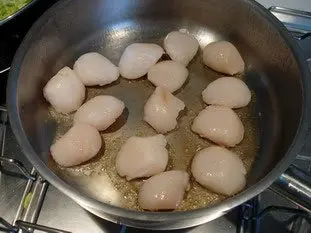 In a frying pan or other wide pan, preferably non-stick, heat 2 tablespoons
olive oil
and ing 6 over high heat.
When sizzling, add scallops one at a time, placing them carefully so that they do not touch each other, and without moving them around as they stick instantly to the pan. This is normal and gives the wonderful flavour to the finished dish.
---
Stage 7 - 6 min.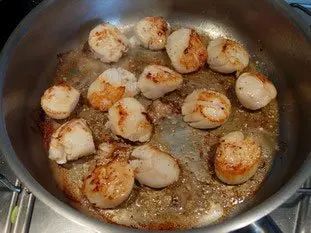 Salt lightly, pepper generously, and cook scallops 2 or 3 minutes on each side, so that they are nicely golden brown.

This is the secret for cooking scallops, they should be browned but not overcooked to retain their flavour.
---
Stage 8 - 2 min.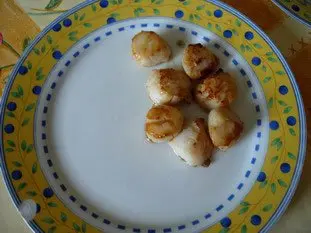 Then arrange them immediately on the hot serving plates, and cover with aluminium foil.
---
Stage 9 - 2 min.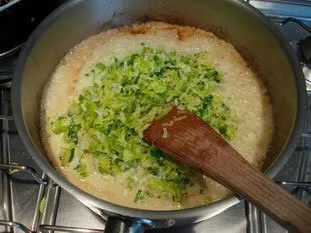 Put the scallop pan back on high heat, and pour in 150 ml
cream
. Scrape the bottom of the pan thoroughly with a spatula so that the cream can absorb all the flavour left from cooking the scallops.
Once this is done, and the cream begins to boil, tip in the leeks and leave to cook another one or two minutes so that the cream thickens and creates the famous "fondue of leeks".
---
Stage 10 - 5 min.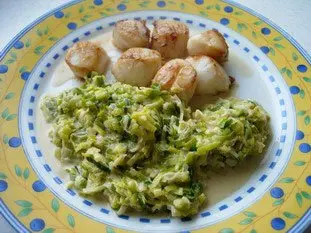 Uncover the scallops, if any juice has run out, pour this off into the pan with the leeks, and stir it in.

Pour some leek fondue beside the scallops and serve without delay.
Remarks
The leeks can be prepared the day before.

To deglaze the pan, you can pour in half a glass of dry white wine before adding the cream.
Nutritional information
% are calculated relative to a Recommended Dietary Intake or RDI of 2000 k-calories or 8400 k-joules by day for a woman (change to a man).
How much will it cost?
For 4 people : 20.30 €
Per person : 5.08 €
Note : These prices are only approximate
And to drink?: A dry white wine, like a Pouilly-fumé or maybe a Reuilly.
Source
Home made.
More recipes?
This recipe uses (among others)
| | |
| --- | --- |
| | Cream: You can get more informations, or check-out other recipes which use it, for example: Lobster Thermidor, Sliced cauliflower with 3 cheeses, Potimarron (Japanese chestnut pumpkin) purée, Lille style chicken, Quartet of brassicas with cream , ... All |
| | Scallops: You can check-out other recipes which use it, like for example: Scallops au gratin, Scallop and leek pancakes, Pan-fried scallops and chanterelles with Noilly Prat sauce, Scallops with crunchy vegetables and wine sabayon, Normandy seafood stew, ... All |
| | Olive oil: You can get more informations, or check-out other recipes which use it, for example: Crispy potato and mushroom brik rolls, Langoustine and leek tarts, Pork chops with a duo of brassicas, Ham and cheese slices with spring onions, Eggs in tomato shells, ... All |
| | Leek: You can get more informations, or check-out other recipes which use it, for example: Langoustine and leek tarts, Cassoulet, Melt-in-the mouth meat and vegetables in a sealed casserole, How to prepare leeks, Vol-au-vent, ... All |
News list of cooking-ez.com
Sign up to receive the latest recipes (next batch due to be sent on 2019-07-21)
Note: We'll never share your email with anyone else.
Follow this recipe (as 4 people already do)
If you are interested in this recipe, you can "follow" it, by entering your email address here. You will then receive a notification immediately each time the recipe is modified or a new comment is added. Please note that you will need to confirm this following.

Note: We'll never share your email with anyone else.