Subscriber's recipes
List of recipes
Sauce au poivre vert naturel
3,710

times
0
comments
note :

0.0 / 5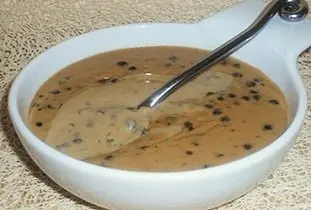 A recipe from:
Category :
Meat/Miscellanous
Overview:
* Nombreux chefs utilisent du NOILLY PRAT pour leurs sauces,
mais ne le disent pas ....
* J'aime avec du magret de canard mais avec une viande rouge, j'aime aussi !
you will need:
• 3 c. à s. de poivre vert en grains ( un peu concassé ),
• 30 cl de crème liquide,
• 3 c. à c. bombée de fond de veau MAGGI déshydraté (poudre), à mélanger à la crème.
• 4 c. à s. de NOILLY PRAT
• 2 Échalotes émincées (facultatif)
• 4,5 cl d'Armagnac (3 c. à s.)
• sel
Step by step recipe:
1) Concassez légèrement les grains de poivre, puis
2) faites les revenir avec les échalotes 2 minutes dans une casserole avec le NOILLY-PRAT.
3) Ajoutez la crème et porter à ébullition..
4) Au 1er bouillon, retirez la casserole du feu, incorporez le fond de veau et l'armagnac, cognac, fouettez énergiquement pour obtenir une préparation homogène puis remettez sur le feu.
5) et laissez mijoter 5 à 6 minutes à feu doux jusqu'à épaississement de la sauce. Rectifiez éventuellement l'assaisonnement avant de retirer la casserole du feu.
Remarks:
Last modified on:
April 9
th
2016
Post a comment or question:
You are welcome, if you wish, to comment on this recipe: why you like it or not, what you have changed, what results it gave, point out a mistake or omission, etc. You can also ask a question. I answer all questions (in a broken English, sorry) unless someone else does it before me.
Please feel free to say what you think, I'm always very interested in your opinion. Your comment will appear on line with the recipe, so please write in standard readable English, not SIM or only in CAPITALS, otherwise your comment may be rejected.
Please look at advice for submitting a comment or image (what you should or should not do). By the way, don't type your e-mail address in the comment, otherwise you might be spammed.