Subscriber's recipes
List of recipes
POMMES DE TERRE MACAIRE
6,166

times
0
comments
note :

5.0 / 5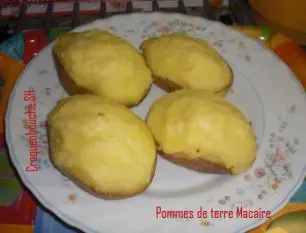 A recipe from:
doudine
Category :
Basic recipes/Vegetables
Overview:
Pour : 5 personnes
Préparation : 30 min
Cuisson : 1 heures 20 min
you will need:
- 10 grosses pommes de terre à purée (toutes de même grandeur)
- un peu de beurre
- sel - poivre - noix de muscade
Step by step recipe:
- Préchauffez le four sur 200 ° (Th. 7-8).
- Lavez et incisez d'une croix le dessus des pommes de terre, (pour éviter qu'elles n'éclatent).
- Enfournez pendant 1 heure.
- Coupez un petit chapeau aux pommes de terre, (attention c'est très chaud).
- Evidez les pommes de terre (attention à ne pas trouer la peau), et récupérez la chair.
- Ecrasez la chair de pommes de terre en purée, ajouter le beurre, le sel, le poivre et la muscade, goà»tez et rectifier l'assaissonement si nécessaire.
- Farcir avec la purée de pommes de terre.
- Enfournez pendant 20 minutes.
- Servir bien chaud, les pommes de terre doivent prendre une belle couleur (ici j'ai mis du fromage râpé) dessus.
Remarks:
Accompagnement :
- Délicieux avec une grillade ou du poisson.
Suggestion :
- Si vous êtes comme moi et que vous aimez les pommes de terre Macaire bien bombée, faites une petite purée en plus, que vous mélangerez avec la chair de pommes de terre récupérée.
- Vous pouvez mélangez des petits lardons, ciboulette ou du fromage râpé à la purée, et saupoudrez de fromage râpé par-dessus.
Last modified on:
June 26
th
2016
Post a comment or question:
You are welcome, if you wish, to comment on this recipe: why you like it or not, what you have changed, what results it gave, point out a mistake or omission, etc. You can also ask a question. I answer all questions (in a broken English, sorry) unless someone else does it before me.
Please feel free to say what you think, I'm always very interested in your opinion. Your comment will appear on line with the recipe, so please write in standard readable English, not SIM or only in CAPITALS, otherwise your comment may be rejected.
Please look at advice for submitting a comment or image (what you should or should not do). By the way, don't type your e-mail address in the comment, otherwise you might be spammed.