Subscriber's recipes
List of recipes
Bowl fruité et coloré Bonne Maman®
615

times
0
comments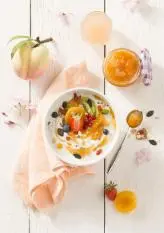 A recipe from:
Manon
Category :
Desserts/Miscellanous
Overview:
Ce bowl aussi fruité que coloré se déclinent à l'infini pour un moment de gourmandise
à partager en famille. Une façon simple et originale de faire de ces petits riens des
moments qui comptent !
you will need:
Pour 1 bowl
Temps de préparation : 20 minutes
Ingrédients :
• 1 gousse de vanille
• 4 cuillères à soupe de graines de chia
• 30 cl de lait entier
• 6 cuillères à soupe de fromage blanc
• 1 cuillère à soupe de sucre de canne
• 2 cuillères à soupe de confiture Abricot &
Nectarine Intenses Bonne Maman
• Des graines de courges
• Des pignons de pin
• Des graines de lin
• Quelques baies de goji
• Des fruits de saison coupés (ici fraises,
myrtilles, abricots, kiwis, groseilles)
Garniture :
• Confiture Duo Intenses Abricot & Nectarine
Step by step recipe:
La veille, faire tremper les graines de chia dans le lait et laisser reposer au frais pendant
une nuit. Dans le bol, mélanger les graines de chia réhydratées, le fromage blanc et le
sucre. Ajouter la confiture. Parsemer de graines diverses et de morceaux de fruits frais.
Savourer quand il vous plait !
Remarks:
Last modified on:
June 18
th
2018
Post a comment or question:
You are welcome, if you wish, to comment on this recipe: why you like it or not, what you have changed, what results it gave, point out a mistake or omission, etc. You can also ask a question. I answer all questions (in a broken English, sorry) unless someone else does it before me.
Please feel free to say what you think, I'm always very interested in your opinion. Your comment will appear on line with the recipe, so please write in standard readable English, not SIM or only in CAPITALS, otherwise your comment may be rejected.
Please look at advice for submitting a comment or image (what you should or should not do). By the way, don't type your e-mail address in the comment, otherwise you might be spammed.