Subscriber's recipes
List of recipes
SOLEIL CHEVRE, NOIX, MIEL / CHEVRE, JAMBON DE PARME, TOMATES SECHEES
7,632

times
0
comments
note :

4.7 / 5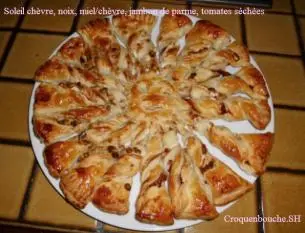 A recipe from:
doudine
Category :
Starters/Amuses-bouches (small appetisers)
Overview:
Un petit apéro simple à faire que l'on varie selon ses envie, version sucré ou salé.
you will need:
- 2 pâtes feuilletée
- 150 gr de chèvre frais (Type Chavroux)
- 1 œuf
- un peu de lait
Pour la 1 ère garniture :
- 2 à 3 bonnes poignées de noix
- du miel
2 ème garniture :
- 3 à 4 tranches de jambon de Parme
- quelques tomates séchées
Step by step recipe:
1) Préchauffer le four sur 200 ° C (Th. 7-8).
2) Concassée les noix.
3) Étalez devant vous la pâte feuilletée, et tartinez la du fromage de chèvre en laissant un bord d'1 à 1,5 cm.
4) Mettre des noix et du miel sur une moitiés et sur l'autre moitié les tomates séchées ciselés (moi au ciseaux), ainsi que le jambon de Parme déchiquetée.
5) Recouvrez de la deuxième pâte et soudez les bords avec une fourchette.
6) Mettez un verre à l'envers au milieu de la pâte et en partant du verre coupez jusqu'au bord.
7) Enlevez le verre et tournez chaque bandes 1 à 2 fois, et badigeonnez-le d'œuf battus.
8) Enfournez pour +/- 20 minutes, moi je le surveille et quand c'est prêt je le sort du four.
9) Vous pouvez le mangez chaud, tiède ou froid (perso je le préfère tiède).
Remarks:
Variante :
- Ce qui est bien dans cette recette c'est qu'on peut la faire en version salée ou sucrée, comme celle-ci : au bousin/saumon (mon préféré).
mon prochain sera en version sucrée : chocolat râpé/framboises ou bananes.
Last modified on:
February 28
th
2015
Post a comment or question:
You are welcome, if you wish, to comment on this recipe: why you like it or not, what you have changed, what results it gave, point out a mistake or omission, etc. You can also ask a question. I answer all questions (in a broken English, sorry) unless someone else does it before me.
Please feel free to say what you think, I'm always very interested in your opinion. Your comment will appear on line with the recipe, so please write in standard readable English, not SIM or only in CAPITALS, otherwise your comment may be rejected.
Please look at advice for submitting a comment or image (what you should or should not do). By the way, don't type your e-mail address in the comment, otherwise you might be spammed.