For
1 cabbage

, you will need:
1

1 green cabbage

2

1 tablespoon white (spirit) vinegar
Total weight: 1,015 grams
Change for:
Measures:
How long does it take?
Fulfillment
| Preparation | Resting | Cooking | Start to finish |
| --- | --- | --- | --- |
| 35 min. | 5 min. | 3 min. | 43 min. |
Preservation:
A few days in the fridge, in a closed jar.
At what time?
When will I finish if I start the recipe at a certain time?
When should I start for the recipe to be ready at a certain time?
Work this out...
---
Step by step recipe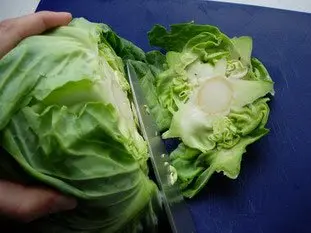 Place cabbage in front of you, then cut off and discard stalk end.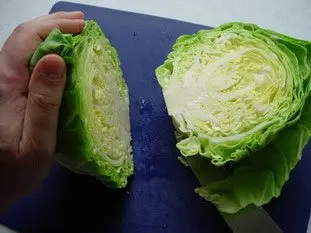 Remove any discoloured or wilted leaves and discard.
Stand cabbage on its base, then cut in two vertically.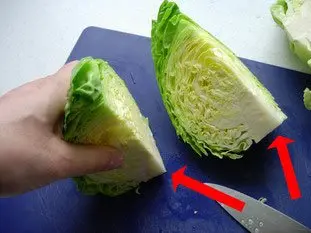 Cut each half in two again.
You will notice that there is a white hard stalk inside, not good to eat.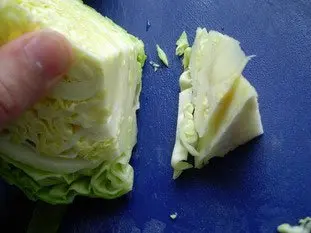 Cut out and discard these hard stalk sections.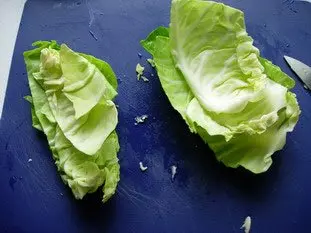 Then separate each ¼ into individual leaves.
Stage 6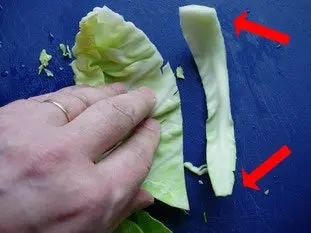 If there are any hard central veins, cut out and discard.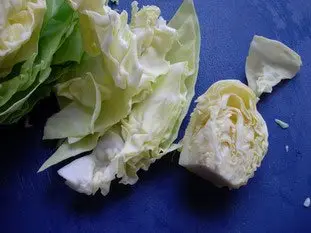 Do this until reaching cabbage heart that you can leave as it is, keeping only the very best of the cabbage.
Wash and drain leaves in cold water with 1 tablespoon white (spirit) vinegar added.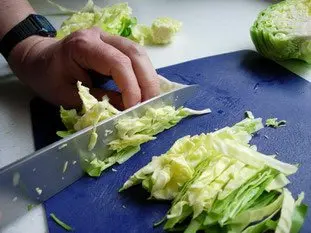 Make a pile of leaves and chop to make
julienne
while holding together firmly.
Stage 9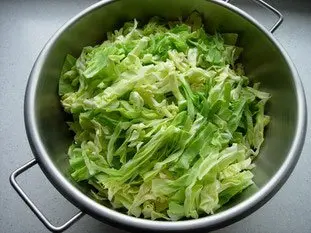 Do this for all the other leaves.
Your cabbage is ready to use as raw.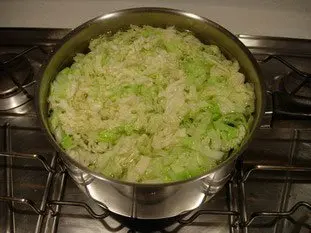 For cooked cabbage, make boil a big pan of salted water (1 tbsp rough salt by litre of water), and put cabbage in.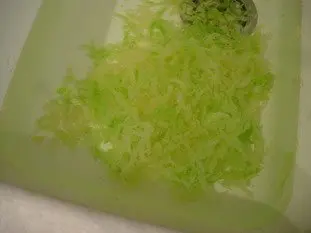 When water boil again, put cabbage in cold water to stop cooking.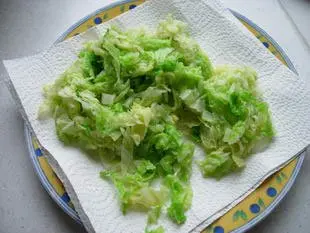 Leave cabbage to cool, then drain carefully and leave on a linen tea-towel or absorbent paper.
Note: The best way to drain cooked cabbage is in a
salad spinner
.
Nutritional information
% are calculated relative to a Recommended Dietary Intake or RDI of 2000 k-calories by day for a woman (change to a man).
How much will it cost?
Note : These prices are only approximate
Recipes which use this 5
Source
Home made.
More recipes?
This recipe use (among others)
| | |
| --- | --- |
| | Green cabbage: You can get more informations, or check-out other recipes which use it, for example: Sautéed Pork with Peanuts, Winegrowers' sausage casserole, Bacon and cabbage omelette, Warm scallop and cabbage salad, Colcannon, ... All |
| | White (spirit) vinegar: You can check-out other recipes which use it, like for example: How to prepare broccoli, Sautéed chicken with leeks, Fresh pasta dough, How to prepare sorrel, How to prepare corn salad, ... All |
News list of cooking-ez.com
Sign up to receive the latest recipes (next batch due to be sent on 2019-05-26)
Note: We'll never share your email with anyone else.
Follow this recipe (as 14 people already do)
If you are interested in this recipe, you can "follow" it, by entering your email address here. You will then receive a notification immediately each time the recipe is modified or a new comment is added. Please note that you will need to confirm this following.

Note: We'll never share your email with anyone else.