10 min.

Start by washing 1 kg fresh spinach in several changes of lukewarm water (not too cold, like for all earthy vegetables).

To prepare the leaves, you need to remove the central vein, for that there are two methods:

Fold the leaf in two along the central vein.

Then with a knife, remove the central vein.

You should keep only the green and tender part of the leaf.

Second method: fold the leaf in half along the central vein.

Then detach the vein by pulling on the stalk, from the base towards the top (in the direction of the arrow), until it's completely detached.

30 min.

10 min.

To blanch spinach

If you wish to blanch before cooking, which brings out the flavour, boil a large pan of water, then salt using 1 tablespoon of salt per litre of water.

Also prepare a large container, or your sink, full of water as cold as possible (ice-cold).

Tip in spinach leaves.

As soon as it boils again, remove spinach from pan with a

skimmer

, and transfer to ice-cold water.

5 min.

Then use a salad spinner to remove as much water as possible.

Note: you will sometimes read in other recipes that you should squeeze spinach in your hands to remove water. I don't think this is a good idea because it gives you hard blocks of spinach, with the leaves all stuck together, not so easy to use.

And finally set aside on absorbant paper to collect any remaining water.

The spinach is ready to be used in your recipe.

See how to in this video.

If you wish to eat it like this (and it is already excellent), you just need to heat it through in a frying pan with a knob of butter.

1 min.

Spinach "wilted" in butter

If you have not blanched you spinach, take a high-sided pan, and melt 20 g

butter

in it.

5 min.

As soon as it's fairly hot, add the spinach. If it won't all fit in the pan, wait until the first batch wilts, then add the rest.

As soon as spinach wilts, salt and pepper, taste to check, it's ready.
Remarks:
There is a a huge task of "spinach rehabilitation" to be done with children: "spinach is not inevitably the horrible green mush which you ate in the canteen"...
Recipes which use it: 17
Of which: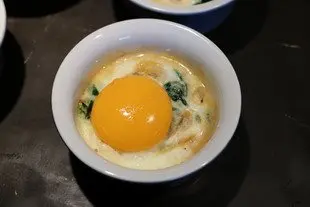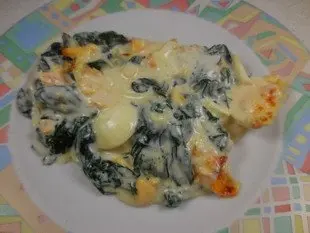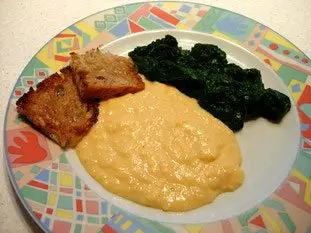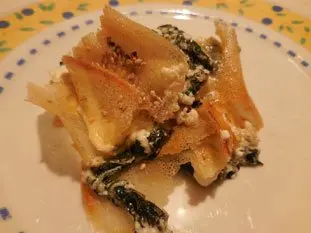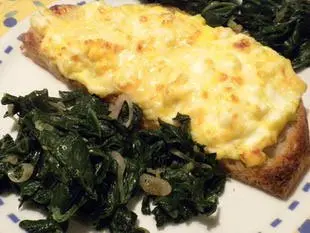 Search the recipes
.
Source:
Home made.
Grade this recipe
More recipes?
This recipe use (among others)
Fresh spinach: You can check-out other recipes which use it, for example: Koulibiak in pie dish, Fresh spinach with cream, Late Winter Soup with Fresh Spinach, Salmon and spinach quiche, ... [All]
Butter: You can get more informations, or check-out other recipes which use it, for example: Chocolate madeleines, Doughnuts, Sicilian Epiphany Pie, How to fry eggs well, Cannelés, ... [All]
Salt: You can get more informations, or check-out other recipes which use it, for example: Stock-pot fish , Burger buns, Potted meat (rillettes), Foie gras cured in salt, How to prepare broccoli, ... [All]