The blog of cooking-ez.com
Raising (or leavening) agents
When we want to make a dough or batter rise when baking, either in patisserie or
bread-making
, we need to use a raising agent or leavening agent, one of which is called
leaven
.
In the context of baking, a raising agent is simply what "makes something rise". It is a substance which, when added to the dough or batter makes it swell up by creating thousands of tiny bubbles of carbon dioxide within it.
As there are 2 kinds of yeast, 2 kinds of leaven and baking powder as well, this can be confusing, so here is a summary of the different types and how they act.
Baker's Yeast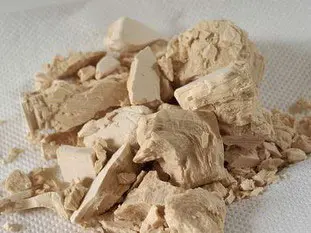 This is the yeast used by bakers to make bread, brioches, etc. It is basically the same kind that brewers use to make beer, so it is sometimes also known as brewer's yeast.
Yeast is a living organism, a microscopic fungus, which reacts with the sugars in flour to form carbon dioxide. It is this fermentation process that makes the dough rise. Yeast is available in 2 forms:
Fresh yeast
This is the classic baker's yeast which is normally sold as a small, beige-coloured block. It should be kept in the fridge and not for too long.
Dried yeast
This is exactly the same yeast, but completely dehydrated. It comes as a beige powder and keeps very well.
Baking powder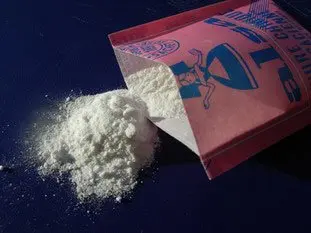 This white powder is a mixture of bicarbonate of soda and cream of tartar. It reacts on contact with the water in the dough or batter to form the carbon dioxide which makes it rise. There is no fermentation.
Baking powder is used mostly for
cakes
,
scones
, etc.
Leaven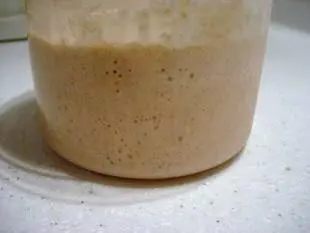 Leaven is a natural raising agent, like yeast. It is made from a mixture of water and flour that begins to ferment when exposed to the naturel yeasts present in the air.
It is a living substance and reacts with the sugars in flour to form carbon dioxide by fermentation, which makes the dough rise. Two different forms can be made:
Liquid leaven
This is a leaven made with equal parts of water and flour. As the name suggests, it is liquid, rather like pancake batter.
Stiff leaven
This is a leaven made with one part water to two parts flour. It has a consistency similar to bread dough.
Whether the leaven is liquid or stiff makes very little practical difference. It is just a question of what you are used to.
It is worth noting in passing that when making
leavened bread
, it is usual to combine a large amount of leaven with a little yeast. This improves the bread's appearance especially the crust.
Summary
We can say that yeast and leaven work by fermentation, whereas baking powder uses a chemical reaction.
Last modified on: December 16th 2013
Post a comment or question:
You are welcome, if you wish, to comment on this page: why you like it or not, what you have changed, what results it gave, point out a mistake or omission, etc. You can also ask a question. I answer all questions (in a broken English, sorry) unless someone else does it before me.
Please feel free to say what you think, I'm always very interested in your opinion. Your comment will appear on line with the page, so please write in standard readable English, not SIM or only in CAPITALS, otherwise your comment may be rejected.
Please look at advice for submitting a comment or image (what you should or should not do). By the way, don't type your e-mail address in the comment, otherwise you might be spammed.
Follow this page
If you are interested in this page, you can "follow" it, by entering your email address here. You will then receive a notification immediately each time the page is modified or a new comment is added.