Pickled gherkins
A recipe from
cooking-ez.com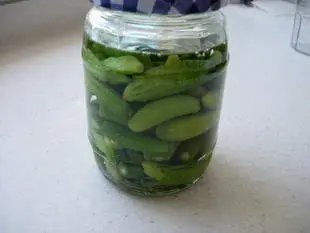 For 500 g, you will need:
Times:
| Preparation | Resting | Start to finish |
| --- | --- | --- |
| 36 min. | 4 hours | 4 hours 36 min. |
Step by step recipe
1
Wash the 500 g fresh gherkins thoroughly.
2
Brush each gherkin under running water to remove all the little "bristles" and give it a smooth surface.
3
If you don't have a suitable brush, or if you prefer, you can use my grandmother Jeanne's method: rub them with the corner of a tea-towel.
4
Cut off any remaining stalks from the gherkins.
5
Rinse again, then dry with a tea-towel.
6
Put the gherkins in a bowl with 300 g coarse salt for 3 hours to draw off some of the juice.

Note: contarary to popular belief, there is no need to soak them any longer than this, as they will start to dry out.
7
After this time, discard the salty water and rinse the gherkins...
8
...and soak them for 1 hour in a bowl of cold water. We do this so that the gherkins will not be too salty.

After one hour, drain the gherkins and dry them on a tea-towel.
9
Pour 1 sprig tarragon and a few peppercorns into the bottom of the jar you are going to use.
10
Fill the jar with gherkins and cover with cold white vinegar (there's no need to boil or even heat it).

Seal the lid and leave to mature for a month before eating.
Remarks
You can use a different vinegar if you prefer, but if you do not use white vinegar, your gherkins may take on an unusual colour.
---
May 16th 2021.