Larded pork tenderloin
A recipe from
cooking-ez.com
185K
1
4.5
November 3
rd
2011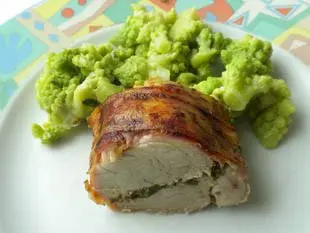 For 6 people, you will need:
0

1 filet mignon (pork loin)

1

4 tablespoons French mustard

2

parsley

3

200 g belly (streaky) bacon

4

1 tablespoon oil

5

salt

6

pepper
Total weight: 1,075 grams
Times:
| Preparation | Resting | Cooking | Start to finish |
| --- | --- | --- | --- |
| 23 min. | 5 min. | 1 hour | 1 hour 28 min. |
Step by step recipe
1
Preheat the oven to 180°C (360°F).

Prepare 1 filet mignon (pork loin) and split in two lengthways, without completely severing.

Salt and pepper the inside and outside of the pork.
2
Spread a layer of mustard on each side.
3
Sprinkle with chopped parsley.
4
Then close up the pork again.
5
Wrap the pork completely in the thinly-sliced bacon.

Note: French bacon ("lard" in French) is often sold as whole joints for cutting up at home. However, for this recipe it is best to use ready-siced bacon, or ask your butcher to slice it thinly for you.
6
Place the larded joint in an ovenproof dish or roasting tin and baste with oil using a brush.
7
Roast in the oven for about an hour, watching for colouration.
8
When cooked, remove from the oven and cover the joint in its dish with a sheet of aluminium foil and leave to rest for 5 minutes.
9
Slice the pork and serve with your choice of accompaniment (here it is romanesco sautéd in butter).
Remarks
For the mustard, I recommend the traditional whole-grain variety.
---
October 22th 2021.