Hay-baked poultry
A recipe from
cooking-ez.com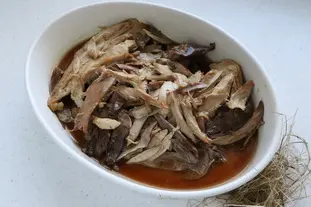 For 4 people, you will need:
Times:
| Preparation | Cooking | Start to finish |
| --- | --- | --- |
| 21 min. | 4 hours | 4 hours 21 min. |
Step by step recipe
1: Flatten 100 g hay slightly into a mat.
2: Salt and pepper your choice of bird (a guinea fowl here) both inside and out.
Put into a roasting bag.
3: Slip the hay underneath the bird.
Seal the bag.
4: Put the wrapped bird in an oven-proof dish or on a baking sheet.
5: Cook in the oven at 280°F (140°C) for 4 hours.
Turn the bag upside down halfway through.
6: After this time, take the dish out, but leave the oven on.
7: Pour all the cooking juices from the bag into a bowl.
8: Tip out the contents of the bag onto a baking sheet.
9: Remove and discard the hay.
10: Pull the meat off the bones. This should be very easy after such long cooking.
11: Discard the bones and skin and transfer the meat to an oven-proof dish as you go.
12: Pour the cooking juices over and put back in the oven to keep hot until serving.
13: Serve with your choice of vegetables, rice or pasta, as you prefer.
Remarks
If you don't have a roasting bag, use something like a cast-iron casserole with a lid which can go in the oven.
You might find hay in an organic shop these days, but the best way to get it is to ask a local farmer for a little.
The quantity of hay is just for guidance, you just need enough to form a bed under the bird.
---
March 23th 2023.