Morteau sausage
A recipe from
cooking-ez.com
1.2M
3
3.9
October 13
th
2010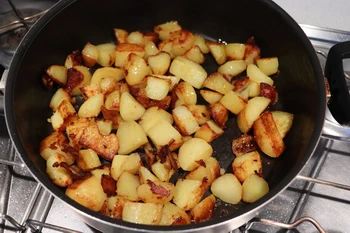 For 6 people, you will need:
Times:
| Preparation | Cooking | Start to finish |
| --- | --- | --- |
| 31 min. | 1 hour | 1 hour 31 min. |
Step by step recipe
1: Peel, cut into four, then wash and dry 1 kg 500 g potatoes.
They should be cut into equal pieces for regular cooking, washed well and dried to eliminate starch which makes them stick during cooking.
2: Put 3 tablespoons oil in a large non-stick pan on medium heat.
Add potatoes and stir well, do not salt.
3: Remove string, wood and label from 2 Morteaux sausage, then prick along whole length and all round with a sharp knife.
4: Place sausage on top of potatoes, cover with a lid and leave to cook 40 minutes on low heat, without touching nor stirring.
It's very important to not stir during this first stage of cooking; if not, you will get fried mashed potatoes...
5: At the end of this time, remove lid, leave sausage on a plate to facilitate next stage.
6: Gently stir potatoes to bring the ones already cooked from the bottom up to the top.
7: Prick sausage again, return to pan and leave to cook a further 20 minutes uncovered.
8: Serve directly from the pan on the table, or on plates by dividing out pieces of sausage and potatoes.
Remarks
You should not salt potatoes otherwise they will stick (and you will have fried mashed potatoes), or maybe at the end just to rectify, but if the sausage is good quality, this is unnecessary.
See the
products
page for more
information on Morteau sausage
.
---
March 23th 2023.