How to prepare apricots
A recipe from
cooking-ez.com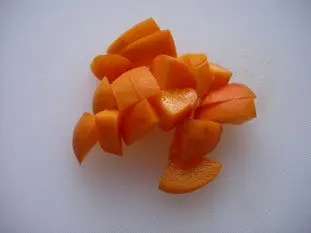 For 900 g, you will need:
1

1 kg apricots
Total weight: 1,000 grams
Times:
Step by step recipe
1: Wash 1 kg apricots thoroughly.
2: Cut each apricot in half, passing a knife around the pit.
3: Open the apricot.
4: Remove the pit and set aside.
Repeat this process with all the apricots.
5: Using a small knife, cut off the small, hard part of each apricot half where the apricot stem used to be, and discard it.
6: Then, depending on the use of your recipe, cut the apricots into small pieces (photo), into quarters, or leave them in halves.
Your apricots are ready to use.
Remarks
This procedure applies to all varieties of apricot.
---
December 6th 2023.