Pan-fried potatoes
A recipe from
cooking-ez.com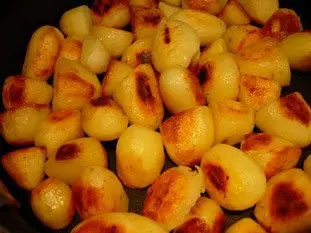 For 4 people, you will need:
Times:
| Preparation | Cooking | Start to finish |
| --- | --- | --- |
| 42 min. | 55 min. | 1 hour 37 min. |
Step by step recipe
1: Peel and wash 1 kg potatoes.
Cut into medium sized pieces if you have big potatoes, the ideal size is about that of your thumb.
If you cut potatoes, wash again. This is very important because cutting potatoes releases starch, and that starch will make them stick when cooking.
2: Pour 3 tablespoons oil into a non-stick pan on medium heat, and add potatoes. Stir well to coat each potato with oil.
3: Turn down heat, cover, do not salt and do not touch for at least 40 minutes.
4: After this time, uncover, salt, and...
5: ... stir gently so that fried sides of potatoes are on top.
6: Repeat this until potatoes are fried as you like them.
7: Be careful because once fried, potatoes can't be kept waiting, covered or not they will go soft.
You should serve them without delay.
Remarks
Brief summary of the method: wash and dry potatoes, coat with a little oil, cook slowly without salt and without stirring for 40 minutes, only then should you salt and stir to cook on all sides.
My uncle Pierre, a great chef, when he was chef of his own restaurant, used this dish to test new young cooks.
---
December 15th 2019.