Poached eggs
A recipe from
cooking-ez.com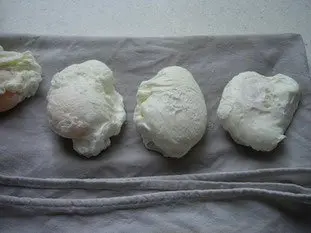 For 4 Poacheds eggs, you will need:
1

4 eggs

2

2 tablespoons white (spirit) vinegar
Total weight: 230 grams
Times:
| Preparation | Resting | Cooking | Start to finish |
| --- | --- | --- | --- |
| 37 min. | 2 hours | 3 min. | 2 hours 40 min. |
Step by step recipe
1: 1st important point: Remove 4 eggs from the fridge at least 2 hours in advance, you should use eggs at room temperature for the cooking time indicated below to work.
2: Bring a pan of unsalted water to boil. When boiling, pour in 2 tablespoons white (spirit) vinegar, and reduce heat to a simmering water.
That is the 2nd important point: your water should not be salted (salt disturbs the cooking of egg white), and simmering, not boiling, because big bubbles boiling produce irregular and ugly poached eggs.
Prepare a bowl of cold water.
3: Break the first egg into a cup.
4: Slip egg smartly into simmering water...
5: ...and immediately gather the white around egg yolk to prevent egg spreading out too much.
If you have difficulty doing that, try this tip: with a tablespoon give one or two turn to the pan to make a small vortex in the water, then add egg and the vortex will do the gathering job for you.
6: Leave cook for 2 minutes and 30 seconds (3 minutes maximum). This cooking time is the 3rd important point for a perfect result.
7: After this time, remove egg from hot water and put it immediately into the bowl of cold water to stop the cooking.
Leave it in, and continue with all eggs.
8: With scissors, trim off any irregular lumps and trails of egg white to get as round and even an egg as possible.
9: Then put on a cloth to dry.
10: Do this with all eggs, your soft-boiled eggs are ready.
Remarks
Poached eggs are use in many recipes, cold or hot, but are always delicious.
If you want to reheat them, put in the microwave for 15 seconds, or leave 3 minutes in a bowl of hot tap water (not boiling).
If you make poached eggs in advance, the day before for example, leave to stand in a bowl of salted cold water in the fridge.
White vinegar is used because wine vinegar would stain the egg red.
---
August 18th 2022.