How long does it take?
Time required for this recipe:
| Preparation | Resting | Cooking | Start to finish |
| --- | --- | --- | --- |
| 37 min. | 2 hours | 3 min. | 2 hours 40 min. |
At what time:
When will I finish if I start the recipe at ... ?
When should I start for the recipe to be ready at ... ?
---
Step by step recipe
---
Stage 1 - 2 hours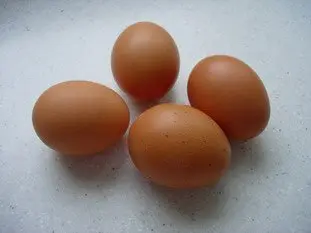 1st important point:
Remove 4
eggs
from the fridge at least 2 hours in advance, you should use eggs at room temperature for the cooking time indicated below to work.
---
Stage 2 - 10 min.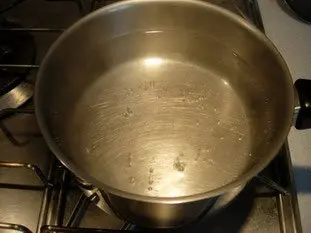 Bring a pan of unsalted water to boil. When boiling, pour in 2 tablespoons white (spirit) vinegar, and reduce heat to a
simmering water
.
That is the
2nd important point:
your water should not be salted (salt disturbs the cooking of egg white), and simmering, not boiling, because big bubbles boiling produce irregular and ugly poached eggs.
Prepare a bowl of cold water.
---
Stage 3 - 1 min.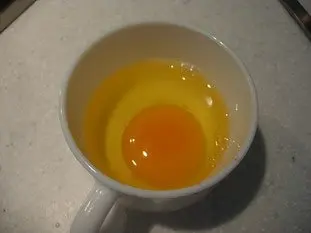 Break the first egg into a cup.
---
Stage 4 - 1 min.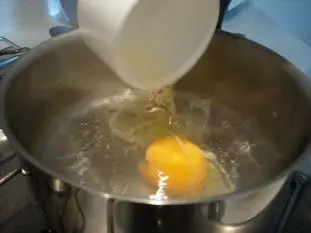 ---
Stage 5 - 1 min.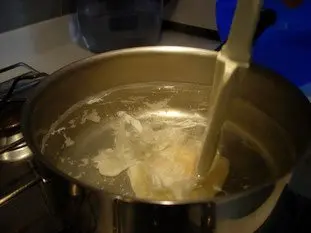 ...and immediately gather the white around egg yolk to prevent egg spreading out too much.

If you have difficulty doing that, try this tip: with a tablespoon give one or two turn to the pan to make a small vortex in the water, then add egg and the vortex will do the gathering job for you.
---
Stage 6 - 3 min.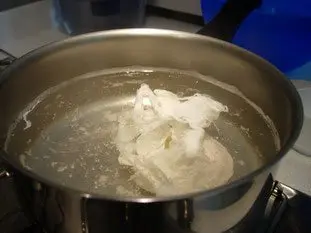 Leave cook for 2 minutes and 30 seconds (3 minutes maximum). This cooking time is the 3rd important point for a perfect result.
---
Stage 7 - 1 min.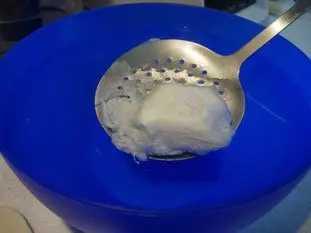 After this time, remove egg from hot water and put it immediately into the bowl of cold water to stop the cooking.

Leave it in, and continue with all eggs.
---
Stage 8 - 2 min.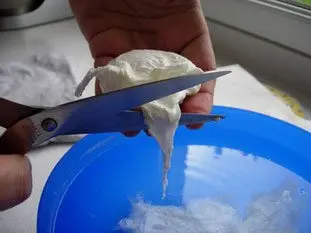 With scissors, trim off any irregular lumps and trails of egg white to get as round and even an egg as possible.
---
Stage 9 - 1 min.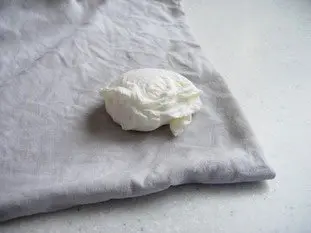 Then put on a cloth to dry.
---
Stage 10 - 20 min.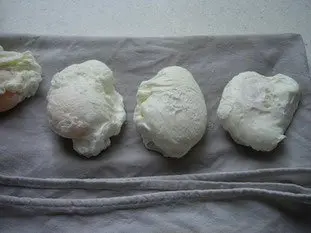 Do this with all eggs, your soft-boiled eggs are ready.
Remarks
Poached eggs are use in many recipes, cold or hot, but are always delicious.

If you want to reheat them, put in the microwave for 15 seconds, or leave 3 minutes in a bowl of hot tap water (not boiling).

If you make poached eggs in advance, the day before for example, leave to stand in a bowl of salted cold water in the fridge.

White vinegar is used because wine vinegar would stain the egg red.
Keeping:
Several days in the fridge, in a closed jar.
Nutritional information
Whole recipe
Energetic value
Proteins
Carbohydrates
Fats
293 Kcal or 1,227 Kj
25 gr
1 gr
21 gr
15 %
10 %
<1 %
3 %
Per 100 g
Energetic value
Proteins
Carbohydrates
Fats
127 Kcal or 532 Kj
11 gr
< 1 gr
9 gr
6 %
4 %
<1 %
1 %
Per piece
Energetic value
Proteins
Carbohydrates
Fats
73 Kcal or 306 Kj
6 gr
< 1 gr
5 gr
4 %
2 %
<1 %
1 %
% are calculated relative to a Recommended Dietary Intake or RDI of 2000 k-calories or 8400 k-joules by day for a woman (change to a man).
How much will it cost?
For 4 Poacheds eggs : 0.59 €
Per Poached eggs : 0.15 €
Some recipes that use this recipe
Source
Home made.
More recipes?
This recipe uses (among others)
| | |
| --- | --- |
| | Egg: You can get more informations, or check-out other recipes which use it, for example: Coconut sweetcrust pastry, Eggs in brioche nests, Leek and tuna loaf, Soufflée omelette with cheese, Choux pastry (pâte à choux), ... All |
| | White (spirit) vinegar: You can check-out other recipes which use it, like for example: Beurre blanc sauce, How to prepare cabbage, How to prepare corn salad, Red mixed pickle, How to prepare broccoli, ... All |
Other recipes you may also like
News list of cooking-ez.com
Sign up to receive the latest recipes (next batch due to be sent on 2021-08-01)
Note: We'll never share your email with anyone else.
Follow this recipe (as 2 people already do)
If you are interested in this recipe, you can "follow" it, by entering your email address here. You will then receive a notification immediately each time the recipe is modified or a new comment is added. Please note that you will need to confirm this following.
Note: We'll never share your email with anyone else.